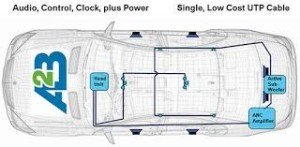 Ford has decided base its in-car infotainment network technology on a data networking systems supplied by Analog Devices.
Called the Automotive Audio Bus (A2B), it is used to distribute audio and control data together with clock and power over a single, unshielded twisted-pair wire.
The attraction of using a single, unshielded twisted-pair wire is that it reduces system costs as well as weight in the vehicle as automotive designs become more cable-intensive.
Ford will use the AD2410 transceiver, the first product in the A2B portfolio, in four vehicle platforms moving to production in 2016.
The A2B series also includes the AD2401 and AD2402 transceivers that have been designed for connecting microphones, for applications such as active noise cancellation, hands-free, and in-car communications.
A2B is a single master, multiple slave, line topology. The AD2410 supports daisy chaining of up to 8 slave nodes on a single UTP wire, which eliminates the redundant wiring home runs required by some competing technologies.
This daisy-chaining capability allows a maximum A2 B bus distance of up to 40 m with up to 10 m supported between individual nodes.
Using a line topology instead of a ring topology is an important element of the A2 B technology related to overall system integrity and robustness. If one connection of the A2 B daisy chain is compromised, the entire network does not collapse.
Only those nodes downstream from the faulty connection are impacted by the failure, while the embedded diagnostics inherent to the A2 B technology are able to isolate the source and cause of the failure.
The A2B master-slave line topology is inherently efficient when compared to existing digital bus architectures. After a simple bus initialization, operation. The A2 B technology does, however, have an interrupt provision where audio nodes can signal when service and maintenance is required.
An important benefit is that system latency is completely deterministic (2-cycle delay) irrespective of the audio node's position on the A2B bus. This is relevant for applications such as active noise cancellation, where audio samples from multiple remote sensors must be processed in a time-aligned fashion.
Vlad Bulavsky, general manager, Automotive Cabin Electronics Business, Analog Devices, said:
"As an early adopter of the A2B technology, Ford has been a great partner and instrumental in refining the feature set of future A2B devices."
A2B devices meet all relevant automotive ESD, EMI, and EMC requirements, are fully AEC-Q100 qualified, and operate over the extended automotive temperature range (-40 to +105 deg C).