Micron R&D Team For Sale On E-Bay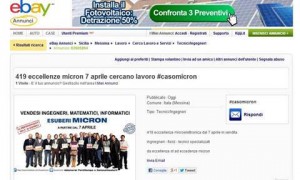 Micron's sacked 419 R&D team are up for sale on E-bay.
The team are due to be sacked by Micron on April 7th after the company decided that a 5% global workforce reduction should be a 40% reduction in Italy.
The team's speciality is non-volatile memory. So c'mon Samsung, Toshiba, SanDisk, Hynix let's hear your bids.

Tags:
Micron
Related Tech News
Share your knowledge - Leave a comment