Agilent shows EMC tester for CISPR 11 standard in China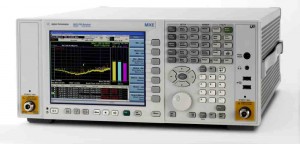 Agilent Technologies has added two new options for its MXE X-Series electromagnetic interference receiver to provide 44GHz frequency range and time-domain scans.
Designed for electromagnetic compliance (EMC) testing, the MXE is a single instrument that meets the requirements for compliance testing according to standards such as MIL-STD-461F and FCC Part 15.
The extended frequency range also applies to the MXE family's powerful diagnostic capabilities, which can be used to identify the sources of unwanted emissions.
Time-domain scans can be used to create a list of suspect emissions prior to final measurements. This capability is becoming widely used in the automotive industry.
"The upgradeable MXE provides the functionality and reliability needed to keep EMC test queues flowing in military and commercial applications," said Andy Botka, vice president and general manager of Agilent's Microwave Communications Division.
Live-spectrum and meter displays can be used to characterise signals and identify the frequency of peak emissions prior to a final measurement.
It also features amplitude probability distribution (APD) which will be included in the upcoming CISPR 11 standard expected to be released in the summer of 2014.
The Agilent N9038A MXE will be on display at the China International Conference and Exposition on Electromagnetic Compatibility (EMC/China 2013), Oct. 23-25, at the Shanghai Everbright Convention & Exhibition Center in Shanghai.
A short video describing the N9038A MXE and its new capabilities is available.