Applied and Tokyo Electron combine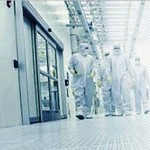 Applied Materials, the largest manufacturer of semiconductor manufacturing equipment, is to buy Tokyo Electron, the second largest manufacturer, for $9.39 billion
Applied CEO, Gary Dickerson, will be CEO of the combined group. Tokyo Electron CEO Tetsuro Higashi becomes chairman of the combined group. Applied shareholders will own 68% of the combined group.
Rationale for the merger is the consolidation of the customer base. Three companies, Intel, Samsung and TSMC, will spend over half of the $54 billion spent on semiconductor manufacturing equipment this year.
The top ten buyers of semiconductor manufacturing equipment will spend 76% of the total amount spent.
This means suppliers of equipment have to maintain large R&D efforts.
The combined group expect savings of $250 million in the first year of operation.
Tokyo Electron made a loss of $30 million in Q2.