CadSoft Adafruit deal targets hobbyist PCB designers
Hobbyist (maker) design tool supplier, Adafruit Industries is now a global reseller of CadSoft's Eagle PCB design software.
Adafruit will offer Eagle hobbyist, standard and professional licences.
Thomas Liratsch, managing director, CadSoft Computer said hobbyist market has been important to CadSoft from the start. "As the DIY, maker and hacker scene is becoming extremely popular and important, we continue to look for opportunities to support this market," said Liratsch.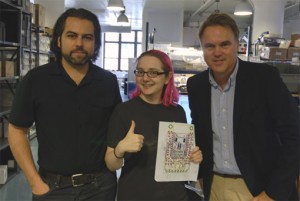 CadSoft visits Adafruit in New York (from right to left) Thomas Liratsch, managing director, CadSoft Computer, Limor Fried, founder of Adafruit Industries and Phillip Torrone, managing director of Adafruit Industries

Tags:
CadSoft
Related Tech News
CadSoft has rolled its Eagle PCB layout tool to version…more »

CadSoft Computer has released an extended version of the PCB prototyping services ULP for users…more »

CadSoft Eagle version 6 has new features such as BGA escape routing, differential pair routing,…more »

"Engineers are under considerable and growing pressure to deliver their new designs to market in…more »
Share your knowledge - Leave a comment