Chip protects mains outputs from electric vehicles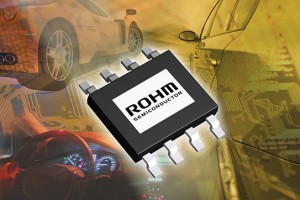 Mains not only flows into electric cars for charging. Some electric or hybrid vehicles include inverters to allow the mains equipment to be powered by the vehicle battery, including for use when the owners house has a power cut.
To protect the users of such mains outputs, Rohm is offering an automotive grade chip for built-in RCDs (residual current devices) – circuit breakers that turn off the mains if leakage is detected.
"Safety systems similar to earth leakage circuit breakers that incorporate leakage detection ICs used in homes and buildings are currently being considered for cars in order to prevent electric shock or fires when using AC outlets. However, severe challenges regarding reliability, including temperature protection, must be overcome before full implementation is possible," said Rohm.
BD9582F-M is AEC-Q100-certified, consumes only 330uA from the battery, operates from -40°C to 105°C "and protects against electromagnetic radiation, providing the necessary level of reliability for automotive applications", said Rohm.
"With cars, particularly electric vehicles, power is limited to the amount of battery charge remaining. And earth leakage circuit breakers for homes normally operate 24 hours a day year-round," said Rohm. "Therefore, it is imperative that any safety systems implemented in vehicles minimize current consumption as much as possible."
Sensing is through a current balance transformer, rails from 100-240Vac are supported, and supply power.