Crystal oscillator aims for oven-controlled stability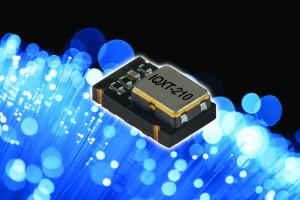 IQD's IQXT-210 series temperature and voltage controlled crystal oscillator (TCVCXO) has specified frequency stabilities down to ±0.14ppm over the full industrial temperature range of -40 to 85 deg C. "This is approaching OCXO performance levels, whilst being packaged in a miniature 8-pad 5 x 3.2mm package," claimed the supplier.
Powered from a 3.3V supply the IQXT-210 has a typical current draw of only 12mA dependent upon the frequency, which can be specified between 10MHz to 50MHz. Eleven standard frequencies are initially offered, including 12.8MHz, 19.2MHz and 26.0MHz.
Output can be specified as either HCMOS, 15pF load or Clipped Sine, into 10k Ohms load. The oscillator can be specified to include various pulling range options, from ±5ppm to ±10ppm and also ±10ppm to ±15ppm.
This enables the frequency to be adjusted by a fixed amount for various applications and also allows for the oscillator to be used remotely.
Phase noise performance is -148dBC/Hz at 10kHz offset and short term stability is down at 5E-10/S. .

Related Tech News
Share your knowledge - Leave a comment