Embedded MPUs benefit from the ARM ecosystem
The Embedded MPU (eMPU) is seen as an effective answer to many of the challenges facing today's embedded designers.
Embedded system developers are under constant pressure to deliver completed designs within shorter time to market and at lower cost. Choosing a processing solution that offers to help simplify design – and is supported by a high-quality ecosystem providing tools, expertise and IP – often takes precedence over the lowest per-unit price or highest raw performance.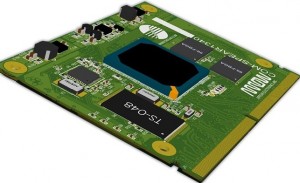 Among the processor types available to developers, embedded MPUs (eMPUs) fit into the spectrum between MCUs and MPUs (main processing units). They combine a high-performance MPU with integrated peripherals in the same way as a microcontroller, and provide an effective platform aiding rapid development of sophisticated, high-performance applications.
When combined with an effective ecosystem, including development tools and hardware such as evaluation boards, this type of device allows designers to deliver advanced system designs to market quickly and cost effectively.
Examples of this type of device can be seen in STMicroelectronics' SPEAr family, which combine standardised ARM-based processing core architectures, extensive connectivity, peripherals and security functions, and a supporting ecosystem including 3rd-party development tools and ST evaluation kits.
The evaluation kits provide valuable project support by speeding up software design and debug, helping engineers become familiar with eMPU features, and providing a starting point for developing the target application board.
The complete SPEAr family covers a broad spectrum of performance and integrated functionality starting with the entry-level SPEAr300/310/320 devices, which are based on a 333MHz ARM926EJ-S processor.
The SPEAr1310 and SPEAR1340 are higher performing devices taking advantage of the latest ARM Cortex-A9 processor with connectivity including multiple Ethernet, USB CAN and HDLC ports, multiple memory interfaces including NAND/NOR FLASH, DDR2/DDR3 plus boot RAM and OTP ROM.
Cortex-A9 is available as a single-processor solution offering more than 50% higher performance than ARM Cortex-A8 solutions.
The Cortex-A9 MPCore multicore architecture provides up to four processors, and provides an economical solution capable of operating economically under conditions ranging from light workloads up to high levels of peak performance. Its configurability and flexibility allows Cortex-A9 to scale across a wide variety of markets and applications.
High-end eMPUs get design support
Targeting video-conferencing systems, smart displays, gateway devices and other systems requiring high connectivity and interactivity, the SPEAr1340 combines a dual-core Cortex-A9 CPU subsystem with the ARM Mali™-200 Graphics Processing Unit (GPU) supporting up to 1080p resolution, OpenGL ES 2.0 and OpenVG 2.0.
This allows applications using the SPEAr1340 to offer advanced 2D and 3D acceleration for user interfaces and features such as navigation, browsing and gaming. There is also support for multi-standard video coding/decoding up to 1080p including H.264.
In addition, small package size and support for less expensive memories enable designers to minimise bill-of-materials costs and simplify PCB designs.
Power management and support for various operating systems such as Linux, Android 4.0 ICS and Windows Compact 7 also make SPEAr1340 suitable for a wide range of emerging applications in consumer as well as industrial market sectors. These include entry-level tablets and low-cost access devices, thin clients, media phones and smart user-control panels for manufacturing equipment and printers.
Also integrated on-chip, and thus helping to reduce hardware complexity and simplify design, are 32KByte of boot ROM, 32KByte + 4KByte of internal SRAM, up to 1GByte DDR2-800/DDR3-1066 SDRAM with 16-/32-bit data path with ECC option, and built-in support for external NAND Flash as well as parallel or external serial NOR flash. The device also supports asynchronous SRAM.
In addition, extensive connectivity interfaces provide support for PCIe 2.0 RC/EP link (embedded PHY) or SATA gen-2 host port, two USB2.0 hosts and PHYs, USB OTG and PHY, a Gigabit Ethernet MAC, and a Digital Video Input (DVI) port, plus interfaces for connecting up to four external cameras. There is also a 4-wire resistive touchscreen interface, and a TFT-LCD controller supporting up to 1920 x 1200 resolution (60Hz), and colour depth of 24 bits per pixel.
ST has taken its SPEAr1340 beyond the range of most general-purpose eMPUs by positioning the device as a System On Module (SOM) solution combining powerful dual-core processing with a large range of features and peripherals. This concept answers the commercial and technical challenges that engineers must overcome in order to deliver the performance required within the time and cost constraints prevailing in today's markets.
Supporting this approach, Arrow Electronics has created the COM-SPEAR1340 baseboard, which allows engineers to focus on developing their target board and so achieve faster project completion.
Amir Sherman, semiconductors technical/FAE & business development manager, Arrow Israel