ESD protection diode has low capacitance for USB 3.0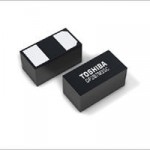 Toshiba has designed an ESD protection diode with a capacitance of 0.1pF.
The device will be used to protect USB3.0/2.0, HDMI, eSATA, DisplayPort, Thunderbolt high speed data lines from ESD, said the supplier.
Mass production is scheduled to begin in August of 2013.
Toshiba has developed an ESD diode array process III (EAP III) which it says is capable of offering the necessary level of  ESD protection with 50% of the capacitance of equivalent products.
Main Specifications
Working Peak Reverse Voltage (VRWM) = 5V (Max)
Total Capacitance (Ct) = 0.1pF (VR=0V, f=1MHz), 0.1pF (VR=0V, f=5GHz)
Guaranteed ESD Protection (VESD)  = ±8kV (IEC61000-4-2) (Contact Discharge)
The insertion loss of DF2B7M3SC is less than 0.1dB at f=5GHz
Other Toshiba news
Toshiba to start fab for 3D flash
Toshiba to manufacture GaN-on-silicon LEDs

Tags:
LEDs
,
silicon
,
Toshiba
Related Tech News
Share your knowledge - Leave a comment