How Stanford's carbon nanotube computer works
Researchers at Stanford University have made a complete CPU using 178 carbon nanotube (CNT) transistors.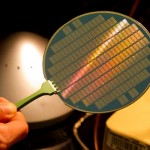 There are two remarkable things here: making so many working transistors in the face of the vagaries of CNT growth, and squeezing a CPU into so few transistors.
The second point is established technology, as far as Electronics Weekly can tell.
It has a one bit ALU and a one instruction architecture, in this case 'subneg' (subtract and branch if negative).
An academic curiosity, this architecture is 'Turing-complete' – it can execute any programme if given enough memory. In this case the memory if off-chip.
In a compilational flourish, it can execute an established instruction set, and is two-way multi-tasking.
The CNT computer performed tasks such as counting and number sorting. It runs a basic operating system that allows it to swap between these processes.
In a demonstration of its potential, the researchers also showed that the CNT computer could run the MIPS instruction set.
An instruction set was drafted at Stanford by Professor John Hennessy in the early 1980s.
The transistors are all back-gate p-channel devices.
To construct them, metal gates are deposited on a SiO2 substrate and covered with a dielectric layer.
Then CNTs, grown on horizontally a separate quartz substrate, are transferred to lay across the gate dielectric. On top of this, source and drain materials are deposited, and finally aluminium interconnect.
Even with the vastly-improved growth techniques now used, CNT vagaries include not growing quite straight, and including a mixture of conducting ('metallic') and semiconducting tubes.
"Over time, researchers have devised tricks to grow 99.5% of CNTs in straight lines. But with billions of nanotubes on a chip, even a tiny degree of misaligned tubes could cause errors," said the university. "Depending on how the CNTs grow, a fraction of these carbon nanotubes can end up behaving like metallic wires that always conduct electricity, instead of acting like semiconductors that can be switched off."
To eliminate metallic nanotubes, the Stanford team passed enough current through the transferred tube array to oxidise them to CO2. This is a subtle process, first revealed by the team in 2009, applied between depositing the source and drain electrodes, and the last step of adding inter-transistor conductors.
To allow it to work, source and drain are sub-divided into a grid patterns and a pattern of voltages applied.
Misaligned tubes are not removed. Instead the researchers "created an algorithm that maps out a circuit layout that is guaranteed to work no matter whether or where CNTs might be askew", said the university.
"This imperfections-immune design [technique] makes this discovery truly exemplary," said Sankar Basu, a programme director at the US National Science Foundation.
With only p-channel transistors to work with, CMOS-like complementary CNT logic is impossible and the circuits have to be resistor-transistor: only the upper transistors are active, and all the lower transistors are biased as largely passive loads.