IDF sees dual 10-core Xeon processor blade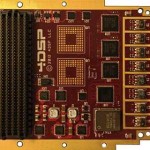 At the Intel Developer Forum , Adlink Technology has unveiled an enhanced aTCA-6250 and aTCA-6200A, AdvancedTCA(ATCA) processor blade, featuring dual 10-core Intel Xeon processors E5-2658 v2 and E5-2648L v2 (2.4 GHz/1.9 GHz).
They are designed to move media servers in IPTV and IP Multimedia Subsystems to the next performance level.
The  aTCA-6250 processor blade offers eight channels of DDR3-1866 memory up to 128GB, and a 400W power supply subsystem for maximum computing performance.
It has dual 10GbE Fabric Interfaces, dual GbE Base Interfaces, quad front panel GbE interfaces, dual front panel USB and COM ports, and onboard SATA DOM socket.
Dual 10GbE ports and dual hot-swappable SAS bays on the optional aTCA-R6270 Rear Transition Module (RTM) provide additional network throughput and storage capabilities.
"Our enhanced ATCA blades are designed for NEBS compliance and give telecom equipment manufacturers and network equipment providers a powerful, high bandwidth solution for mission critical applications and a smooth upgrade and growth path," said Yong Luo, head of Adlink's embedded computing product segment.
"With Intel Hyper-Threading Technology and Intel Turbo Boost Technology, the combination of the new generation of Intel Xeon processors and Intel C604 chipsets provides increased performance from both single and multi-thread workloads while maintaining thermal and energy efficiency," said Luo.
The board has DDR3-1866 memory up to 128GB and a PICMG mid-size AMC bay for flexible expansion, supporting AMC.1 PCI Express and Advanced Switching, AMC.2 Gigabit Ethernet, and AMC.3 SATA/SAS storage expansion.
On-card connectivity includes dual 10GBASE-KX4 Fabric Interfaces, dual GbE Base Interfaces, dual front panel GbE egress ports, onboard bootable CFast socket, onboard 2.5″ SATA drive space, and modular Fabric riser card for additional PICMG Fabric Interface protocols.