IXYS Releases 4,500V power MOSFETs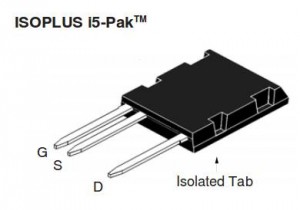 Ixys has released a family of 4,500V n-channel power mosfets, claiming it to be industry's highest voltage mosfet product line.
In standard packages, current ratings range from 200mA to 2A, and their positive temperature coefficient means they can be paralleled, which is cheaper compared to series-connected, lower-voltage mosfet ones, claims the firm, as well as reducing the amount of associated gate drive circuitry.
"We all know from physics 101, that it is more efficient to provide electrical energy with higher voltage than with higher current. Thus, we developed this technology, to enable power conversion or energy tapping from the electrical grid closer to the grid voltage," said Ixys founder and CEO Dr Nathan Zommer. "Numerous other industrial, transportation and medical applications require also high voltage control capabilities that these mosfets enable."
Ceramic isolation of up to 4.5kV is achieved with the direct copper bond (DCB) substrate – allowing the heatsinking tab to be electrically isolated.
"DCB provides low thermal impedance and best-in-class power and temperature cycling capabilities, and the molding epoxies meet the UL 94 V-0 flammability classification," said the firm.
Applications are foreseen in capacitor discharge circuits, high-voltage automated test equipment, laser and x-ray generation, high-voltage power supplies, and pulse circuits.
Pakages are Ixys' proprietary high-voltage versions of the international standard packages: TO-263, TO-268, ISOPLUS i4-Pak, ISOPLUS i5-Pak.
Part numbers include IXTT02N450HV (200mA), IXTA02N450HV (200mA), IXTF02N450 (200mA), IXTF1N450 (900mA), IXTT1N450HV (1A) and IXTL2N450 (2A).