Kyocera kit adds TFT display to Raspberry Pi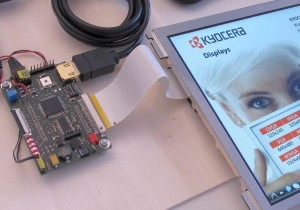 Kyocera Display Europe has introduced a TFT display demonstration kit which will work with a Raspberry Pi computer and will adapt HDMI graphics data from the Raspberry Pi to be viewed on a display panel.
With text, image and video data formatted the kit can be used to design the display into a Raspberry Pi based application. These applications are expected to be in industrial automation, medical technology and automotive.
The Kyocera VIP Kit has a single channel 24-bit HDMI-LVDS converter with a 15MHz to 85MHz pixel clock.
Other features include VGA (640 x 480) to Full HD (1920 x 1080) resolution and users can select between Hsync, Vsync or Clock polarity. The power pack supplied provides the required voltage of 12 V/1.5 A; and the control unit for the backlight with up to a maximum of 600 mA integrated.
The converter is designed to be connected directly to the Raspberry, but if required, can also be connected to any HDMI port.
"Our new VIP Kit offers users from a variety of different sectors numerous additional options for the rapid implementation of demonstration models," said Manfred Sauer, head of sales and marketing, Kyocera Display Europe.
What is Raspberry Pi? Ask the inventor.

Related Tech News
2 Comments
Share your knowledge - Leave a comment