Murata claims surface mount ultrasonic sensor first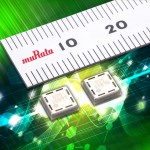 Murata has developed its first surface-mount ultrasonic sensor in a package measuring 5.2 x 5.2 mm and 1.15 mm thick.
The MA40H1S-R series is capable of delivering up to 100dB sound pressure at 40kHz. Operating voltage is 6Vp-p and the sensor has a -6dB full angle beam of 80 degrees.
It is manufactured by Hakui Murata Manufacturing Co and will be avialble in summer 2014.
Typical applications include distance measurement, position detection and 3D gesture detection in portable equipment.

Related Tech News
Share your knowledge - Leave a comment