PC continues decline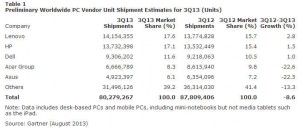 The PC market continues to head South with Gartner putting Q3 shipments at 80.3 million units and IDC putting them at 81.6 million units.
Compared to Q3 2012 that represents an 8.6% or 7.6% decline.
The analysts attribute the slump to the popularity of tables, especially cheap tablets, and a lack of motivation to replace existing PCs.
Tesco sold out of its £120 Hudl tablet on its launch day.