PCIM: Fairchild shows small motor drive module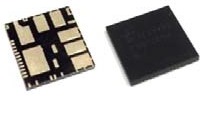 Fairchild's latest power module, on show at PCIM in Nuremberg, Germany this week, is for small power motors under 100W, and is designed for efficiency at light-loads.
The FSB70xxx series of Motion SPM 7 modules integrates a gate driver for the built-in mosfets designed to minimise EMI and losses, while also providing multiple on-module protection features including under-voltage lockouts,
It is available in a PQFN package.
"A free online loss calculation tool allows engineers to quickly see how these advantages will improve their design," said the supplier.

Related Tech News
Share your knowledge - Leave a comment