Scalable power block has dual asymmetric DC-DC mosfets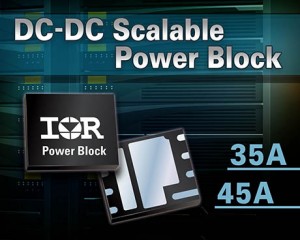 International Rectifier has announced single-package dual asymmetric mosfets for DC-DC buck converters at tens of amps (above).
In each case, one of the mosfets is optimised for synchronous rectification, and the other as a main power switch.
For example, the IRFH4251D has one 1.1mΩ (4.5Vgs) 44nC (gate charge) rectifier mosfet and one 4.6mΩ 10nC main switch mosfet, both rated at 45A and 25V.
The other device is IRFH4253D, and both are in 5x6mm PQFNs, and aimed at telecoms and graphic cards.
According to the data sheets, both '51 and '53 are 45A pairs, but announcing them the firm said the 51 is nominally rated at 45A while the 53 is aimed at 35A.
"The 'Power Block' devices feature an integrated monolithic Fetky and employ a flipped-die technology that enables efficient dissipation of the heat from the source of the synchronous mosfet directly to the ground layers of the PCB," said IR.
"As a result of improved thermal performance and increased power density, one of the new 5×6 dual devices may replace two 5×6 standard single devices."
The firm also claims that these 25V devices can preplace a pair of 30V devices due to improved lay-out.
Gates can withstand ±20V, but are optimised for 5V drive.