Server sales slump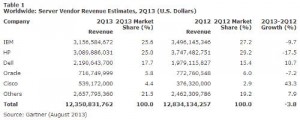 Server revenue fell 3.8% Y/Y in Q2 after the 5% drop in Q1, says Gartner.
Demand is weak as enterprise attempts to improve server efficiency (via consolidation and virtualization) and a mix shift towards cheaper, white-label servers preferred by Internet/cloud companies hurt sales.
IDC is more pessimistic, estimating revenue fell 6.2% and units 1.2% (lower ASPs).x86 servers continue gaining share.
Gartner thinks sales rose 2.1% Y/Y and units 4.5%.The opposite holds for Unix servers: sales -25.3% and units 27.4%. "Other" server sales (inc. IBM mainframes) rose 6.9%.
IBM and H-P, whose enterprise hardware units have fallen on hard times, remain the industry's top vendors, but continue to bleed share.
IBM's share fell 160 bps Y/Y to 25.6%, and H-P's 420bps to 25%.Dell's share rose 210 bps to 17.7%, Cisco's grew 150 bps to 4.4%.Oracle, which is seeing rising (Intel-based) engineered system sales and plunging Unix/SPARC CPU server sales, is assigned a 5.8% share (-20 bps).
"Other" vendors, including white-label firms, had a 21.5% share (+230 bps).IDC estimates sales of density-optimized servers (beloved by Internet companies) rose 26.6% to $735M, and now make up 6.2% of server revenue