Slim power relay for 277Vac 5A loads designed to save energy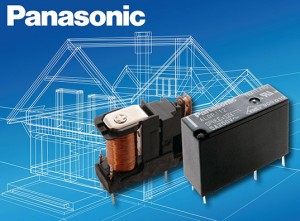 Panasonic's ALDP relay is extra slim: 7.0mm wide and 15mm high by 20.3mm long.
Intended for refrigerators, domestic boilers, hot water systems, air conditioning, fan heaters, and microwaves (picutred, above), its 200mW coil will switch loads up to 277Vac and 5A.
Available in commonly-used coil voltages between 5Vdc and 24Vdc, it is intended for use in products destined for almost all national and international markets as it is approved to UL, C-UL and VDE standards.
"Reliability and quality is assured as devices are 100% tested by Panasonic immediately after manufacture," claimed distributor TTI, which is stocking the relay.
Creepage distance and clearances between contact and coil are a minimum of 6mm, in compliance with IEC65.
Surge withstand voltage between contact and coil is more than 10,000V.
Heat resistance and tracking perfomance is to EN60695 (GWT2-11, GWFI2-12, and GWIT2-13).
Ambient temperature operating range is -40°C to +85°C.