Vector Software test supports multicore RTOS from Green Hills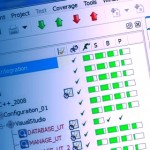 Vector Software, the embedded software test specialist, has extended support for the multicore real-time operating systems from Green Hills Software.
VectorCAST's multiprocessing support applies to the entire family of Green Hills' operating systems, from the standard INTEGRITY to INTEGRITY-178B and INTEGRITY-178 tuMP. This includes support for all multicore architecture configurations currently supported by Green Hills Software.
The multicore operating systems support both AMP and SMP architectures.
VectorCAST's embedded testing capabilities include unit and integration testing on host, target, and simulator, code coverage analysis, requirements traceability, and continuous integration.
"The ability to control core affinity ensures that applications are tested running on the same sub-set of cores as they will run on in the production system," said Dan Mender, vice president of business development at Green Hills Software.
"One of the key points of the integration is to allow customers to easily test their application in a context that exactly matches the architecture where the application will be deployed," said John Paliotta, Vector Software chief technology officer. "Users may configure VectorCAST to run the same test case on a single core, a subset of cores, or all available cores, and confirm that the behavior is exactly the same."