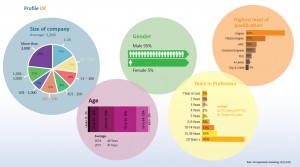 The survey results indicated that the national average salary of engineers, managers and sales staff working in the UK electronics industry has increased by 5% in the past three years to £46,321.
Salary levels may reflect the increase in business confidence in the electronics sector in the past 12 months. More than half the respondents expressed a positive view of business confidence in the sector at the current time.
One third of respondents are earning over £50,000 per annum, while fewer than 10% are taking home less than £25,000.
Salary levels are above the average in the communications, consumer and components sectors. Engineers, sales staff and managers working in the communications sector are the most highly paid, with an average salary of £52,594, over £6,000 per annum above the industry average and only slightly more than staff working in what they call the 'consumer electronics' sector, where the average salary is £51,398.
Consistently above national average salaries are also paid in the manufacture and supply of components, where the average is £46,525. Interestingly, this is £2,000 a year less than recorded in the survey three years ago, suggesting that the supply chain may have suffered more pain during the recession and has taken longer to recover.
It is a similar story in the design and manufacturing services sector. Here the average annual salary in manufacturing services has fallen by £3,000 since the last survey in 2011 to £39,857.
It is a different story in the automotive sector, where the average annual salary has increased by more than £4,500 in the past three years to reach £44,583 per annum.
The automotive and components sectors are gaining ground. Annual salary rises in these two sectors are averaging 3%, which is above the 2.5% industry average, the survey reveals.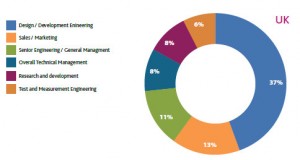 Sectors with average salaries below the overall average include defence, aerospace and manufacturing services.
According to this year's survey, the average salary in defence and aerospace is £42,161, and in design and manufacturing services (including EMS) just £39,857 per annum, but salary levels in defence/aerospace and manufacturing are increasing by 2.6% and 2.4% per annum respectively.
The research was carried out in February and March 2014 by Reed Business Insight.
See also: