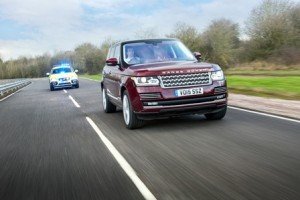 Called UK Connected Intelligent Transport Environment (UK-CITE), the project will create a test route capable of testing both vehicle-to-vehicle and vehicle-to-infrastructure systems on 41 miles of roads around Coventry and Solihull.
Roadside communications equipment will be installed along the route during the three year project to enable the testing of a fleet of up to 100 connected and highly automated cars, including five Jaguar Land Rover research vehicles.
The project will investigate the practicalities of transmitting data at very high speeds between moving cars, and between cars and roadside infrastructure, including traffic lights and overhead gantries.
According to Dr Wolfgang Epple, Director of Research and Technology, Jaguar Land Rover, similar research corridors already exist in other parts of Europe.
"So this test route is exactly the sort of innovation infrastructure the UK needs to compete globally," said Epple.
It is envisaged that connected cars could co-operate and work together to make lane changing and exiting from junctions more efficient and safer.
Technologies like Cooperative Adaptive Cruise Control would enable vehicles to autonomously follow each other in close formation, known as platooning, making driving safer and ensuring road space is used more efficiently.
"The benefits of smarter vehicles communicating with each other and their surroundings include a car sending a warning that it is braking heavily or stopping in a queue of traffic or around a bend," said Epple.
"This will enable an autonomous car to take direct action and respond. Drivers would receive a visual and audible warning that another car is causing a hazard out of sight or over the horizon," said Epple.
One cost saving could be the removal of overhead gantries carrying messages on motorways. Warning messages will be sent direct to the dashboard which could potentially replace the need for overhead gantries, which each cost around £1m to install.
Jaguar Land Rover is developing what it calls 'Over the Horizon' warning systems, which would allow autonomous vehicles to respond to hazards and changing traffic conditions automatically.
Jaguar Land Rover's 'Emergency Vehicle Warning' system would identify that a connected ambulance, fire engine or police car is approaching through car-to-car communication. The driver would then receive a warning, long before flashing lights and sirens are audible or visible.
"The approach of an emergency vehicle can often be stressful for drivers. If we can inform the driver, or the autonomous car, much earlier that an emergency vehicle is approaching, we can ensure that the best decisions are made to move the vehicle out of the way safely and conveniently, to let the emergency vehicle pass by," said Epple.