Industry scholarship programme targets skills gap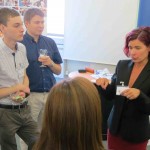 The UK Electronics Skills Foundation has announced industry backing for 60 scholarships for the 2013/14 academic year.
This takes promised industrial support for the electronic engineering scholarship programme to over £1m in three years.
It has helped 180 engineering students through university and into rewarding electronic engineering careers.
The scholarships are available to students studying electronic engineering at any of the 11 UKESF partner universities, all leading UK universities recognised for their strength in electronics teaching and research.
This is intended to help address the shortage of skilled students entering the electronics industry in the UK, an industry which the government now recognises it important for economic growth.
This year's Electronic Systems industry report for government, ESCO, stated innovation in the sector is an enabling driver in virtually all segments of the UK economy, contributing £78 billion ($125bn) and employing 850,000 skilled workers.
"The UK electronics sector is a vital yet fragmented industry so we must work collectively to promote awareness of its significance, global impact and wide ranging career opportunities," said UKESF chairman and Plastic Logic CEO Indro Mukerjee.
According to UKESF programme director, Wendy Daniell: "UCAS data show a higher proportion of students are now applying for vocational degrees, perhaps as a result of rising tuition fees. Student degree choices are increasingly being influenced by factors such as graduate employment prospects and scholarships."
"I invite more employers with graduate recruitment issues to join UKESF to attract the best of these students into our industry," said Daniell.
For further information on the UKESF and its scholarship scheme visit: www.ukesf.org