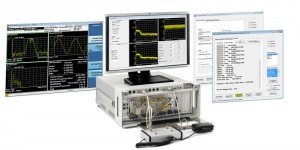 According to Keysight, the PXI modular test platform which uses PC-based data processing has the flexibility and performance to test the latest multiple channel and wide bandwidth radio systems, while also supporting legacy analogue as well as digital radio standards.
As well as these legacy analogue and digital radio standards, the reference system supports standards-based signal creation and analysis for newer communications standards, such as LTE for next generation public safety radios.
It also generates and analyses custom waveforms up to 27GHz.
"The radio test reference solution is part of our ongoing effort to provide hardware and software configurations for specific test applications," said Mario Narduzzi, marketing manager at Keysight.
Hardware options range from the entry-level M9290A CXA-m signal analyser to the high performance M9393A performance vector signal analyser.
Software options include Keysight's X-Series measurement applications, supporting a common set of standard measurements for AM, FM and digital radio, such as APCO P25 and TETRA signals. The M9560A radio test audio library accelerates audio signal generation and analysis.