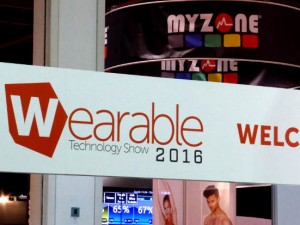 WTS shared a hall with two other exhibitions: IoT Connect – another good fit for chip makers – and Augmented Reality 2016.
Picture Gallery: Wearable Technology Show 2016 »
Exhibitors were from all levels. For wearables for example, there were: suppliers providing components for wearables, firms making wearables, and service-providers using wearables.
Applications ranged far and wide, from leisure through well-being to medical, and from home-automation to smart textiles.
In general, chip firms were concentrating on ultra-low power processing, ultra-low power sensing, Bluetooth and power conditioning – all of which link well to both wearables and IoT.
Alongside the chip firms there were plenty of virtual (and augmented) reality headsets at the Wearable Technology Show, some because that is what the company makes and others because they are linked to games or services.
And it is not often you see groups of happy and engaged school children walking around a trade show.
Electronics companies that attended
(click links for show announcements)
Enfucell
Nordic Semi
Epson Europe
Microsoft
Panasonic
Plextek
Renata Batteries (part of Swatch)
Samsung Semi
Silicon Labs
Alongside the shows, there were several pay-for one-room conferences:
Augmented Reality
Smart Home & Connected Living
Healthcare & Digital Apps
Mobile payment, Retail & Payment Services
Smart Textiles & Sensors
Performance Sports & Fitness
Wearable
Then there were free-to-enter conferences and demonstration spaces:
IoT
Business Start-up
Live Demo
Apps and IoT Developer
Microsoft Tech Lab