eFlash without extra masks or process steps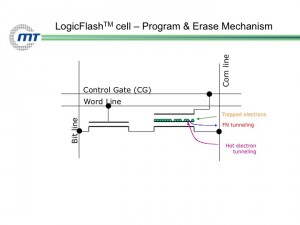 A way of embedding non-volatile memory in SOCs without needing to use any extra masks or process steps has been developed by eight year-old Chip Memory Technology (CMT).
CMT has developed a product it calls 'LogicFlash' for  180nm, 160nm and 130nm bulk CMOS logic processes.
'LogicFlash requires no extra foundry steps or extra mask layers,' says CMT, 'this radically reduces the expense and delay required to qualify and port chip designs that use LogicFlash to new foundries or new processes. Competing embedded NVM technologies require as many as 10 additional masks and 20 to 30 additional process steps when implemented on a standard logic process.'
LogicFlash  has been qualified in five processes and three process nodes. The company says it has multiple customers a in volume production at  three different foundries.
The company has been granted four patents on LogicFlash and has two more pending.
Chrontel, which makes video chips, has taken a  licence for  LogicFlash.
CEO of CMT is Dr. Wingyu Leung, formerly CTO of  MoSys.

Tags:
foundries
,
logic
Related Tech News
Share your knowledge - Leave a comment