Farnell offers USB soldering iron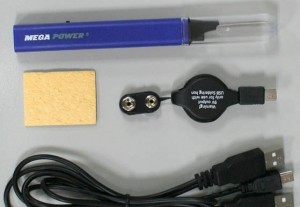 This is the world's first USB-powered soldering iron, claims stockist Farnell.
Made by MegaPower, it is is designed for quick repairs in the field and lab for fine pitch surface-mount components, and can also be powered from a 9V batter.
"The iron achieves 480°C in 20 seconds and has 5W power consumption instead of 40W," said Farnell.
There is an LED to illuminate the work, and an on-off switch.