Fujitsu fabs SuVolta image processor on 55nm process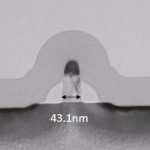 SuVolta and Fujitsu Semiconductor have announced volume production of a first image processor IC to use SuVolta's deeply depleted channel (DDC) transistor technology.
The MB86S22AA image processor was manufactured on Fujitsu Semiconductor's 55nm process. Likely applications are digital SLR cameras and smartphones.
Fujitsu Semiconductor is SuVolta's first licensee of the DDC technology (pictured). Since the collaboration was announced in June 2011, the companies have successfully brought up the DDC technology at the 65nm and 55nm nodes, meeting all production, yield and reliability requirements.
Fujitsu has already used deeply depleted channel (DDC) transistors to halve the power consumption of a 65nm ARM Cortex-M0 core.
"What SuVolta and Fujitsu Semiconductor have done is significant for the semiconductor industry," said Dr. Handel H Jones, CEO at IBS, the California-based technology analyst.
"Working together, the companies have essentially implemented a 'mid-life kicker' to Fujitsu's 55nm process technology, enabling advances in IC functionality with much less costs and redesign than those required by node migration to 40nm or 28nm. Since the majority of IC manufacturing today is at 90nm to 40nm process nodes, the implication and benefits to the industry are significant," said Jones.