'Highest-performance' PXIe controller yet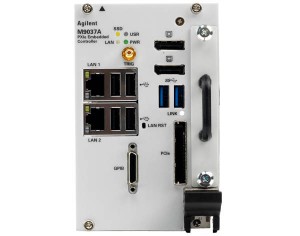 At 12Gbyte/s data bandwidth, Agilent is claiming to have produced the highest-performance PXIe controller yet.
Called M9037A, "the controller's 12Gbyte/s maximum data bandwidth offers capability for complex or multi-chassis systems and secure environments," said the firm. "With best-in-class CPU processing speed and a front-panel removable 240Gbyte solid-state drive, it provides the performance, reliability and security required for aerospace/defence, RF, semiconductor, wireless communications, or electronic functional test."
Data throughput is achieved using "a potential of up to 24 PCIe lanes", said Agilent.
The computer is based on Intel's i7-4700EQ extended life processor, claimed to be the fastest available by Agilent's Mark Pierpoint.
Its front panel has x8 PCIe connection for external devices, such as a second PXIe chassis or a RAID storage without using a PXIe instrument slot.

Related Tech News
A warmish evening in Barcelona saw Samsung finally unveil its…more »

HTC is another company quick off the mark with its new smartphone announcement ahead of…more »

Chinese mobile giant Huawei has launched a smart watch on the eve of Mobile World…more »

Low power consumption means ARM processors are making headway into…more »
Share your knowledge - Leave a comment