Manufacturer invests $1m in European plant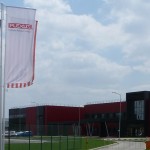 Plexus has invested $1m in an expansion of its test development capabilities in Oradea, Romania.
A new test technology design and development laboratory at the Oradea manufacturing site will work with the manufacturer's design centres in Germany and the UK.
"Following our recent investment in facilities in Scotland and Romania, the expansion of our engineering capabilities in Oradea demonstrates Plexus' continual commitment to the region," said Ronnie Darroch, Plexus regional president in EMEA.
As a result of the investment the company will expand its development of manufacturing test strategies, boundary scanning, environmental stress screening, and functional in-circuit testers.
The test development team will be led by a functional manager based in Oradea, and will be part of Plexus' ISO 9001 certified global engineering team of more than 350 design engineers.