Stainless steel cabinets for tough environments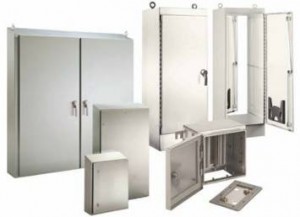 For demanding climatic conditions and aggressive industrial environments, Hoffmann is now making stainless steel cases, cabinets and accessories in Poland.
"The products are manufactured at a number of production sites on different continents, to the international ISO 9001:2008 standard," said the firm. "They have been adapted to meet the requirements and needs of European customers and are now produced at Pentair's facility in Poland. This gives greater capacity to meet European market demands and to provide the required adaptations."
Applications are expected primarily in the oil and gas industry, chemicals and petrochemicals, in the food and drinks industry, in water treatment and paper manufacture and in laboratories and medicine. Some are suited to positions where cleaning is carried out with water at high pressure.
There is a stainless steel enclosure brochure