SuVolta raises $10.6m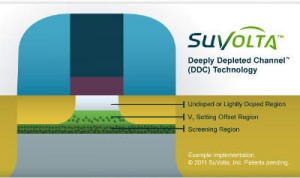 Californian chip process firm SuVolta has secured $10.6m from new investor Fujitsu and existing investors Kleiner Perkins Caufield & Byers (KPCB), August Capital, New Enterprise Associates (NEA), Northgate Capital and DAG Ventures.
"SuVolta will use the funding to accelerate the integration of its low-power chip technology into the design and fabrication of semiconductor integrated circuits for low power applications, such as DRAM and mobile computing," said the firm.
The firm's process allows depleted channels to be grown on planar bulk CMOS – reducing process variability, and therefore threshold voltage variability, of fine geometry chips without resorting to finfets or silicon-on-insulator.
With less variability, chip speed can be guaranteed at a lower operating voltage, reducing power consumption – in ICs from 90nm to 20nm, claims the firm.
Fujitsu is already making chips using SuVolta technology.

Related Tech News
Share your knowledge - Leave a comment