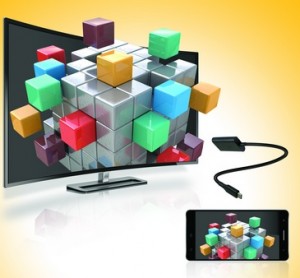 Lattice's USB Type-C port controllers and MHL transceivers are paired with MediaTek's Helio X20, mobile processor with Tri-Cluster CPU architecture and ten processing cores.
In a smartphone design the MHL transmitter carries the 4K video, while the SiI7033 port controller sets up MHL Alt Mode on USB Type-C. It also power supports fast phone charging.
The port controller also integrates the required switches to support simultaneous MHL and USB3.1 connectivity over the reversible Type-C connector.
The MHL transmitter conforms to the new superMHL video interface standard that can deliver and receive 4K 60 frames per second over a two-wire differential pair with the USB Type-C connector in "alt mode".
The Type-C connector, as it is called, is expected to take over from the micro USB as the standard connector for multi-gigabit USB 3.1 interfaces.
It will support the 10Gbit/s data rates compared with the 5Gbit/s maximum of USB 3.0, which will make it a practical alternative to today's HDMI connectors on your television.
The SiI8348 transmitter can take an input from HDMI 2.0 transmitters already integrated into the application processor and directly interfaces with a USB 2.0-enabled Type-C connector without the need for additional high-speed switches.