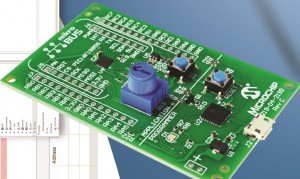 This a free IDE for PIC microcontrollers which automatic code generation and MPLAB XC compilers, support for programmer/debugger hardware, and 10Gbyte of secure online storage with a myMicrochip account.
There is also a library of Microchip-validated code examples and an interface to MPLAB Code Configurator (MCC) 3.0 for GUI-based MCU peripheral setup.
The cloud-based software means designs can be carried out without downloads.
But if required it is possible to migrate projects to the full, downloadable MPLAB X IDE.
The user will need a PC or tablet with internet access, which is connected to the MPLAB Xpress evaluation board.  The development board features an integrated programmer, a PIC16F18855 MCU and a mikroBUS header for system expansion with MikroElektronika's more than 180 Click boards.
The online IDE can be used with Microchip's popular PICkit 3 In-Circuit Debugger/Programmer, which provides programming and debugging capabilities for over 1,000 PIC MCUs.
Microchip says the attraction is that
"users can open a browser and quickly generate code via the integrated MPLAB Code Configurator which integrates with MPLAB Xpress: this is a feature which is not available with any other cloud-based IDE. Users can then test that code with the included simulator, compile the code and then programme and debug their target MCU".
The company has also set up a discussion forum on its website.
To access MPLAB Xpress; view getting-started and application demo videos; request one of a limited number of free MPLAB Xpress Evaluation Boards.