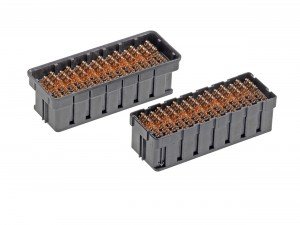 It is a modular system consisting of tunable differential pairs and compliant-pin terminations with a staggered interface configuration which supports data rates up to 28Gbit/s.
The compliant-pin termination is designed to minimise near-end and far-end crosstalk by matching the signal integrity of the surface mount connectors.
Molex uses a patent-pending modular triad wafer design which incorporates high-speed differential pairs that can be tuned to 85 to 100Ω impedances.
System options include four triad configurations, high-speed single-ended traces and low-speed single-ended lines and power contacts. As a result low- and high-speed signals and power can be supported in one connector.