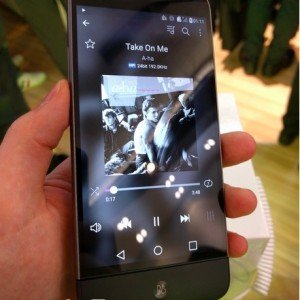 Among the usual announcements of faster processors and better camera technology, LG had an ace up its sleeve to differentiate itself from the competition by debuting the world's first commercially available modular smartphone.
Unlike the rather more experimental Project Ara from Google, LG's G5 only offers a single modular component, which is swapped out from the bottom of the handset.
Mobile World Congress: Your Electronics Weekly guide »
With third party add-on support normally a problem, LG is demonstrating a number of its own modules, including a camera expansion, dubbed the LG Cam Plus, and a high-quality audio module, born from a collaboration with Denmark's Bang & Olufsen, called the Hi-Fi Plus.
The Hi-Fi Plus module offers a dedicated 32-bit DAC and amplifier, which supports both native playback of high resolution audio files as well as up-sampling lower bit-rate audio from any source.
LG also confirmed that the Hi-Fi Plus module will offer 16-bit Bluetooth audio, a first in any smartphone. The module itself is easy and quick to install, with the press of a small unobtrusive button on the lower right side of the handset releasing the existing bottom.
Unfortunately, LG has not installed an additional short-term battery, so the phone does need to power down to make the swap. The good news here is that the G5 also offers a removable battery, an additional differentiating factor between it and some rivals, including the Samsung Galaxy S7 and S7 Edge.
Although primarily intended to offer a high-quality audio experience on your smartphone, Bang & Olufsen has also confirmed that the Hi-Fi Plus was designed to work beyond the use of the G5.
The module comes with USB-C connectivity through a connector in the cap, which will enable it to be used as an external audio card with other Android and iOS devices in future.