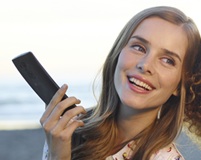 As the mobile phone suppliers look at ways to innovate handset design, which has hardly changed in the last five years, LG has come up with the modular smartphone.
If you want a B&O audio sound you plug in the module into your base handset. But if hi-fi audio is not your preference and you want high quality photography, you plug in a different module.
The LG G5 smartphone has a metal case and there is a new expansion slot at the bottom of its aluminium case.
The Android (v6.0) phone has the processing power of a Qualcomm Snapdragon 64-bit 820 processor.
Mobile World Congress: Your Electronics Weekly guide »
The hi-fi audio module is built around a 32-bit digital to analogue converter (DAC) made by high-end audio firm Bang & Olufsen.
The camera controller has a new zoom capability and LG says it has done something to boost to battery life if you are a heavy camera user.
The phone has two camera lenses on its rear-side, and one camera is fitted with a wide-angle 135-degree field of view. But for wide-angle the picture resolution falls to eight megapixels. The camera with the normal lens offers 16 megapixel resolution.
Battery life has been extended to 4000mAh.
It has a 5.6 inch display with 1440 X 2560 pixels resolution.
Part of the phone's display is "always-on", with the time and notifications always visible even when the phone is asleep.