The processor firm has created a wearable reference design in its mbed open source design community, and it has selected wireless technology from ams and an STMicroelectronics secure microcontroller.
The NFC design is based around the ST54E NFC controller from ST and the AS39230 NFC analogue front end from ams, which incorporates the firm's boostedNFC technology.
Mobile World Congress: Your Electronics Weekly guide »
The NFC controller is secure element compliant with the GlobalPlatform standard v2.2.
The design allows for the use of a smaller antenna in difficult RF environments. The firms say it will exceeds the EMVCo requirements for RF performance in contactless payments, even when operating through an antenna smaller than 100mm2.
The mbed wearable reference design provides a route to NFC card emulation. It comes with an NFC software stack developed by ST and which is compatible with ARM's mbed IoT device platform.
"Thanks to minimum system requirements in terms of footprint and processing power, the ams/ST solution is suitable for space constrained designs, such as ARM's mbed Wearable Reference Design", said Mark Dickson, director business line wireless at ams.
A feature of the analogue front end is active load modulation. According to ams. this boosts the NFC transmission signal to increase the area in which the wearable reference design can couple with an NFC reader.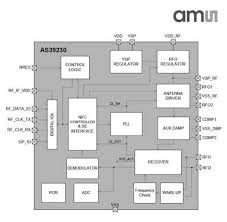 The ST54E controller may be held in a deep power-down mode when not in the presence of an NFC RF field. At the same time, the AS39230 has low power modes which draw an average current of just 18µA.
The design is approved for use as an NFC device in card emulation, peer-to-peer and tag reader modes in compliance with the NFC Forum standards.
It is also suitable for use in applications which require worldwide certification, including for Common Criteria, EMVCo, GlobalPlatform, and Visa, Mastercard, Amex, Discover, and the People's Bank of China (PBoC).
An other security feature of the reference design is a sepa-rate fingerprint reader, running on a Cortex-M4 based STM32F411 microcontroller, to implement fingerprint image processing and matching.
According to Zach Shelby, vice-president of marketing, IoT business, ARM, this is an example of the energy efficiency which is possible with ARM Cortex-M processors and the mbed OS for small form factor devices and applications.