Two CMW500 testers each generated two component carriers with 2×2 MIMO using the 256QAM modulation method. The complete set-up can achieve a high data throughput of up to 800Mbit/s in the downlink, said Rohde & Schwarz.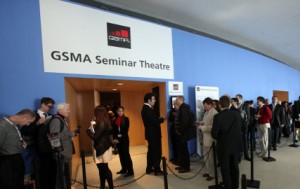 The company uses a CMWC controller to co-ordinate the CMW500 testers, which can also be used separately. A number of other test functions are also available, such as uplink carrier aggregation, FDD/TDD joint operation and LTE 4CC up to 8×2 MIMO.
Mobile World Congress: Your Electronics Weekly guide »
Rohde & Schwarz also demonstrated RF tests on the CMW500 with 64QAM modulation in the uplink. These modulation methods increase the data rate in the uplink for LTE.
This set-up achieved a data throughput of 75Mbit/s on a single carrier or 150Mbit/s in combination with LTE-Advanced uplink carrier aggregation.
The test firm has also worked with Prisma Telecom Testing to verify LTE FDD three component carrier (3CC) aggregation in the downlink, including 4×4 MIMO on each carrier.