It is last year's model, the S6/S6 edge, with more refinements.
This is the problem all mobile phone firms have. There are few fundamental technology changes in the pipeline, so new smartphones are just refinements of what has come before.
Mobile World Congress: Your Electronics Weekly guide »
The smart thing Samsung has done with the S7 is to return to a few basics – memory, camera and battery performance.
This evening in Barcelona, Samsung's Justin Denison described an IP-68 rated waterproof handset which once again has an SD card memory card expansion slot.
Samsung removed the water-proofing and SD card slot in the S6 and now it has put them back.
The new model's GPU is 60% faster, and the primary processor has 30% more performance than the S6.
The battery lasts a little longer too.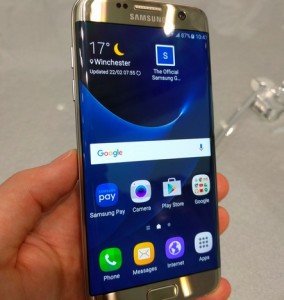 Its 5.1-inch display continuously shows the time, even when the phone is asleep.
The 12Mpixel camera has a fast focus feature, Denison called it dual-pixel. It also works better in low light conditions.
Yes, and Samsung Pay will be introduced in seven more countries, including Spain.
Samsung believes users are taking smartphones for granted.
Is it possible manufacturers are making the same mistake?