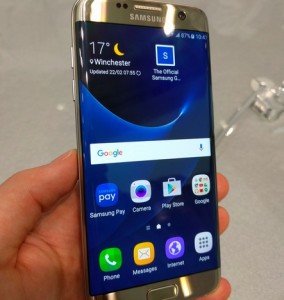 Qualcomm has confirmed that the Snapdragon 820 processor will be present in certain models of the Galaxy S7 and S7 Edge.
Samsung themselves confirmed that these models would only be available in the US, China and Japan, citing improved LTE connectivity as the key differentiator in these markets.
Mobile World Congress: Your Electronics Weekly guide »
The 820 is fabbed on Samsung's own FinFET LPP 14nm process and features the Qualcomm's first quad-core 64-bit Kryo CPU runninhg at 2.2GHz per core.
Coupled with this is the latest Adreno 530 GPU, which Qualcomm claims can achieve up to 40% better graphic and computing performance over the previous model.
Samsung have however chosen to use its own octa-core Exynos 8 Octa processor in the Galaxy S7 and S7 Edge in markets outside of US, China and Japan.
The Exynos 8 Octa, released late last year, is also manufactured using Samsung's FinFET 14nm process and boasts an eight-core 64-bit ARMv8 architecture.
See: 64-bit processors make phones faster and safer, says ARM
Samsung claims a 30% boost in performance and 10% boost in efficiency over last years Exynos 7 processor, with this years design being the first in the premium line to include both the application processor and LTE modem on a single chip.
Unveiled on Sunday at a special event prior to the official opening of Mobile World Congress 2016 at Barcelona's Fira Gran Via exhibition centre, the Galaxy S7 and S7 Edge represent Samsung's flagship smartphones for 2016.
After last year's Galaxy S6 and S6 Edge smartphones left many faithful users wanting, with the high profile exclusion of expandable memory, a removable battery and waterproofing all of which were present in the previous S5 model, this year Samsung has gone back to basics by re-instating the expandable memory and IP68 dust and water resistance.