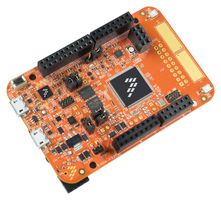 These MCUs have been given security features such as boot ROM to support encrypted firmware updates and automatic decryption from external serial NOR flash memory.
There is also hardware AES acceleration built with side band attack protection as well as hardware support for Public Key Cryptography.
The FRDM-K82F development board can be used with expansion boards and there are an Arduino R3 compatible pin layout, FlexIO header and a footprint to include optional Bluetooth and RF expansion modules.
As well as the MCU running at 150MHz and 256kbyte of flash, 256kbyte RAM, there is a full-speed USB controller with available crystal-less operation and six-axis digital accelerometer and magnetometer on the board.
It comes with the OpenSDAv2.1, an mbed HDK-compatible open-source hardware embedded serial and debug adapter.
The NXP FRDM-K82F development board is available from Farnell element14 in Europe for £31.86.
See also: NXP sells CMOS sensor business to ams
See also: NXP/Freescale merger ups ARM's market hold