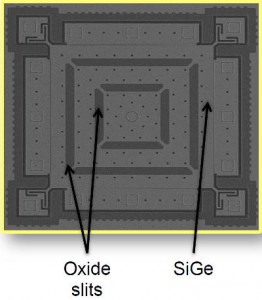 "We are guaranteeing ±20ppm performance for 10 years from -40 to 85°C, Mike Petrowski, v-p timing products at SiLabs, told Electronics Weekly.
The technology has been branded CMEMS and the devices will broaden the firm's oscillator range at the low end (0.30-$1.00), beneath quartz-based devices. Although they might not stop there.
"CMEMS fills a hole in our portfolio," said Petrowski, "but we didn't acquire it just for high-volume low-cost. It is very extensible to mid and high-end."
It is, he claimed, the first monolithic MEMS resonator technology to make it to market.
The actual resonator is built of a combination of poly-SiGe and SiO2, over processed CMOS.
"With this material, the process to deposit on top of CMOS is compatible with the thermal budget of the underlying CMOS. One fab does the whole thing," said Petrowski. The fab is Semiconductor Manufacturing International Corporation (SMIC) in China.
Inside the chip, the resonator is a square of poly-SiGe/SiO2 suspended by springs at its corners and a post to the substrate in the middle (below the circle in the photo), driven and sensed by transducers around the edge (slim rectangles).
It resonates in its horizontal plane, by stretching from a square to a rectangle along one axis, then springing back to become a rectangle in the other axis, and so on. This all happens in a vacuum, hermetically sealed by a cap on the package.
If it were just made from SiGe, temperature compensation would be a complex challenge.
However, carefully-shaped SiO2 regions simplify the electronics.
"SiGe gets softer when hot, but SiO2 has a unique property: it gets hard when hot. We get passive temperature compensation – it is inherently an order of magnitude better stability so electronic temperature compensation can be simpler, smaller, and take less power," said Petrowski.
The design team is unusual, he said: "It is not typical for a fabless semiconductor company. We have mechanical engineers and mechanical modelling, and materials scientists; combined with our mixed signal expertise."
There is a robustness advantage over quartz, claims the firm.
"Its way lighter, so it's a lot less susceptible to shock and vibration. It's mounted in five places, crystals are like a diving board," said Petrowski.
The electronics is essentially a temperature-compensated VCO stabilised by the MEMS resonator (see diagram).
At the top of the new range is the Si504 which can generate any frequency between 32kHz and 100MHz, adjusted through a one pin serial interface.
"It is an analogue loop with a lot of resolution, the resolution is in parts-per-billion," said Petrowski.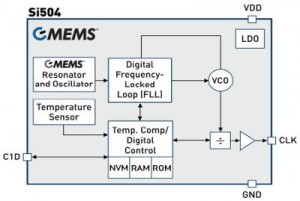 Below this are three other parts: Si501, 502 and 503, which have one, two, and four factory set independent output frequencies respectively, available on the single output pin.
"Although there are some standard frequencies, oscillators is a business of mass-customisation," said Petrowski. "Multi-frequency operation is a big deal to our folks. Video, for example, has a bunch of different standards, so does audio."
Consumption is 1.7mA. "If you want to improve jitter a little bit, it can be as low as 1.1psrms, we can increase power a little bit," said Petrowski," and we can customise drive strength to slow edges as well."
Packages are three DFNs: 3.2x4mm (fits a 3.2x5mm footprint), 2.5×3.2, or 2×2.5, with any model available in any package.
All have four pins with the fourth pin being frequency select, or frequency programme for the 504.
The four chips share the same resonator design – although other designs are being worked on for other applications.
Because they have the same resonator, the firm has developed a field programmer kit for its sales team using one-time programmable devices.
"We have never tried something like this before," said Petrowski. "They can custom-configure a sample on the conference table – a five minute lead time – and they generate a unique part number on the spot. You can order quantity next day."
There is also an evaluation board.
Silicon Labs produced an all-silicon oscillator a while ago, the Si500, and UK-based eoSemi is causing a stir with an all-silicon design that includes stress and well as temperature compensation.
Why did SiLabs go for MEMS rather than all-silicon?
"We thought our path with a physical resonator was much more deterministic and less risky than one with an electronic resonator," said Petrowski. "With an electronic resonator, a lot of things would have to be figured out to get >100ppm, and ours is at 20ppm. I think all-silicon will be a struggle to get in to. We did learn a lot from Si500 on how to compensate, we even looked at compensating for strain, but didn't. We got to 150ppm total stability over life, and some of that learning got into the MEMS product."
Applications for the Si50x range are expected in high-volume industrial, point-of-sale, ATMs, embedded processing, and consumer electronics applications such as digital cameras, storage and memory and multi-function printers.