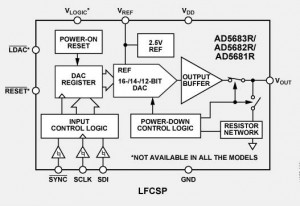 "With relative accuracy of +/-2LSB INL, a 2ppm/°C 2.5V reference and a space-saving LFCSP package, this combination allows analogue designers to address applications without having to trade accuracy for footprint," claimed the firm.
Called AD5683R, total unadjusted error is 2mV, the output is buffered, and its span can be programmed to be 0-VREF or 0-2xVREF.
Take the Electronics Weekly UK Salary Survey 2014 »
"All devices are guaranteed monotonic by design," said Analog. "The internal power-on reset circuit ensures that the DAC register is written to zero scale at power-up while the internal output buffer is configured in normal mode."
For a beefier output, in PLC output cards for example, the firm is suggesting further buffering with its AD5750-2 single-channel precision voltage-current output driver.
Operation is from a single 2.7 to 5.5V supply, and along with the 2x2mm 8pin LFCSP there is a 10pin MSOP option.
Pin-compatible 14, 12 and 10bit versions are available.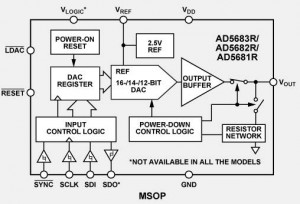 Devices in the range contain a power-down mode that reduces the device consumption to 2μA (max at 5V) and have software selectable output loads while powered-down.
Interface is 3wire serial, clocking up to 50MHz, and an I2C versions is in the pipeline.
Some devices also include an asynchronous reset pin, and a VLOGIC pin for 1.8V compatibility.
Electrostatic discharge rating is 4kV (human body model).
Applications are expected in process controls, data acquisition, digital gain adjustment, digital offset adjustment, and programmable voltage sources.