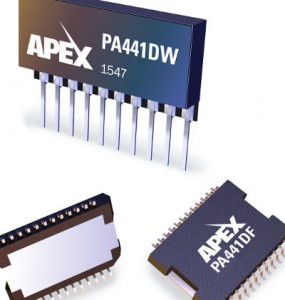 Called the PA44x series, noise is now 12µVRMS at 20kHz, to enhance their performance in piezo positioning applications, said the firm. Offset is 5mV typical at 25°C and 20mV typical across the whole -40 to +125°C operating range.
There are three members, and all three operate with supplies from +/-10V to +/-175V. Output current is 60mA continuous and 120mA peak. Quiescent current is 2.2mA.
"The mosfet output stage is not limited by second breakdown considerations as in bipolar output stages," said Apex, "however there are still three limitations: voltage withstanding of the transistors, current handling of the die metallization, and temperature of the output mosfets."
Gain-bandwidth product is 10MHz at 1MHz. Settling time to 0.1% is 2µs (10V step, AV=-10).
PA441DF, sampling now, has one op-amp, housed in a non-hermetic plastic, surface mount 24pin PSOP.
PA441DW is another single, in an electrically-isolated 10pin ceramic SIP, and will sample later in Q1.
PA443DF is a dual channel (two die) version, in the PSOP, and will also sample later in Q1.
They are drop-in replacements for their PA341DF, PA341DW and PA343DF predecessors.
Evaluation kit EK13 is dedicated to the two DF parts and includes a PCB and heatsink. For the single-in-line PA441DW, Apex suggests its EK42 kit, which is normally used with other parts including the 450V 200mA PA15FL.
Other applications are expected in electrostatic transducer and deflection circuits, deformable mirror focusing, biochemistry stimulators and computer-to-vacuum interfaces.