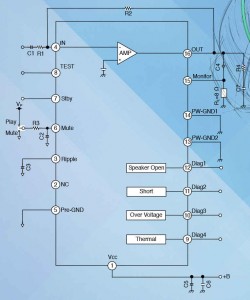 According to the firm: "In 2011 the European Commission adopted a resolution amendment that manufacturers shall be required to install 'acoustic vehicle alerting system' [AVAS] in electric vehicles and hybrid electric vehicles, that the sound should be easily indicative of vehicle behaviour, and should sound similar to the sound of a vehicle of the same category equipped with an internal combustion engine."
TB2909FNG is a 5W audio amplifier that can also be used for reversing alarms and 'answerback' confirmation for keyless remote entry.
Take the Electronics Weekly UK Salary Survey 2014 »
The single-ended Class-AB amp is "specifically developed to amplify the simulated sound of a conventional engine", said Toshiba.
Supply is between 6V and 16V, with the 5W maximum available at 16V with an 8Ω load.
At 0.125W output, total harmonic distortion (THD) is 0.08% and output noise voltage is 50μV.
Functions include: mute, built-in stand-by switch, abnormality detection and protection from: thermal overload, over-voltage, short circuit to GND, short circuit to VCC, and speaker-open.
Packaging is 4.4x5x1mm TSSOP16, and operation is guaranteed between -40 and 110°C.
Inside, the chip is based on the firm's BiCD-0.13 process, which allows the integration of bipolar transistors, CMOS FETs and high-voltage DMOS elements.