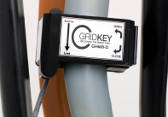 Reduced down-time from local grid failures is the aim.
Currently, according to the firm, only 2% of more than 500,000 electricity sub-stations in the UK have their output power monitored.
"The average sub-station has something like a 1MVA transformer feeding three phase busbars, with five 600A three-phase feeder cables serving several hundred houses," Sentec CEO Dr Mark England told Electronics Weekly.
Each conductor in the cables gets a separate 600A fuse.
"They occasionally blow, and no one knows it has happened until customers start ringing up," said England, which bothers utility companies because they are fined for downtime beyond three minutes.
By monitoring the current in each cable leaving the station – so 15 current transducers – heavily-loaded cables can have some of their load swapped to other phases, or new cables can be laid.
"With an 80-100A service to each house, several dozen houses close to the maximum can overload a cable," said England.
Together with Anglo-Italian firm Selex Galileo, Sentec has already developed a monitoring system called GridKey that records current in every cable, and voltages on each phase, and sends the data to the utility firm over GPRS.
However, sub-station cables were never installed to have sensors clamped around them, and some are too tightly-packed.
"On the basis of seeing more and more installations, we see our first-generation sensor meeting 80% of requirements, and need a smaller one."
Towards this more compact sensor, Sentec entered the Technology Strategy Board's Smart Power and Distribution competition, and has won an undisclosed amount towards funding the development of a smaller sensor, dubbed Slimsensor.
The task is not trivial, according to England.
"This will be quite difficult to do. The first generation sensors are already state-of-the-art," he said. "There is an element of feasibility in the study. We are pretty sure from theoretical work that we can achieve something significantly smaller."
The sensors are passive, and the aim is to make the Slimsensor electrically identical to the original version. If not, the Selex Galileo electronics box will be changes to take account of the sensor type fitted.
"We intend to make them plug-and-play," said England.
The project starts in June and will finish in April 2013.
GridKey can be fitted to sub-stations live, with no pause in service. Voltage sensing and power comes through custom-developed live contacts for the busbars.