The LT3743 will drive up to 20A of continuous LED current from a nominal 12V input, delivering more than 80W of power. 
In pulsed applications, it can deliver up to 40A of LED current or 160W from a 12V input.
According to Tony Armstrong, director of product marketing at Linear Technology, the efficiency is specified at 95%. "This means there will not be the need for an external heat sink in many designs," said Armstrong.
"It is pulse-modulated so devices can be cascaded," said Armstrong.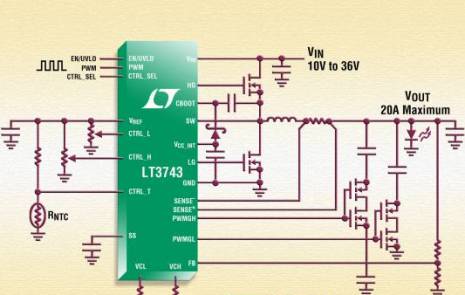 There is a dimming capability using PWM which offers 3,000:1 dimming capability at three LED current levels.
According to Armstrong, the chip can switch between two regulated LED current levels in less than 2µs, enabling more accurate colour blending in RGB applications.
Current accuracy is ±6% to optimise and protect the LED.
Input voltage is 5.5V to 36V input and the operating frequency is adjustable between 100kHz and 1MHz.
The devide is available in a 4x5mm QFN or thermally enhanced TSSOP-28 package.