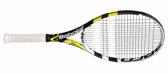 The racquet uses a motion control system developed by French firm Movea. It is expected to be launched as a commercial product next year.
Movea was selected as technology partner by the tennis equipment manufacturer to develop "the racquet of the future".
 
"The racquet will be the first instance where sensor integration has ever occurred in commercially available tennis equipment," said Sam Guilaumé, CEO of Movea.
"This innovation will enhance the player's experience by providing a new and fun way to interact with the game through new tools that analyse and help improve performance," said Guilaumé.
The 'Babolat Play & Connect' racquet will be the first-ever MEMS technology enabled racquet with the ability to gather and analyse game data and provide information that could only be manually estimated.
"Our goal has been to develop and provide our customers with cutting equipment that will enhance their tennis performance whether they are at the professional or enthusiast level," said Eric Babolat, Babolat chairman and CEO.
The racquet will measure specific elements of a player's technique, enabling opportunities for performance analysis, improvement and social results sharing.
  
Babolat unveiled and demonstrated the first "Babolat Play & Connect" racquet prototype last week at the Roland-Garros French Open in Paris and is expected to launch the exciting new product in 2013.
www.movea.com
www.babolat.com