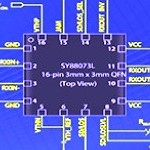 The SY88073L amplifiers are designed for XGPON.2 optical network unit/optical network terminal applications. They can also be used in continuous mode fibre optic or copper cable SFP+ transceiver modules for multi-rate applications from 1G to 12.5Gbit/s supporting 10G Ethernet, Fibre Channel and CPRI/OBSAI data rates.
Both devices offer user selectable LOS or SD status signals and a wide differential input voltage range of 10mVPP to 1800mVPP for extended link distance operation.
Take the Electronics Weekly UK Salary Survey 2014 »
Electrical hysteresis of 4dB is provided across a wide LOS/SD threshold range of 4.5mVPP to 30mVPP. For high speed signalling the chips have integrated 50ohm input and output impedances and a CML output with 30ps typical rise/fall times.
A TTL compatible JAM input enables a SQUELCH function by routing back the LOS or SD signal. Other features include selectable RXOUT+ / RXOUT- signal polarity (SY88073L).
"These new devices offer an impressive BER differential sensitivity of 10mV (peak-to-peak) up to 12.5Gbit/s with wide range SD Assert and LOS De-Assert user selectable threshold levels, 4dB of electrical hysteresis, and faster SD Assert and LOS De-Assert timing than competitive continuous mode devices," said Tom Kapucija, director of marketing for the high speed communications business, Micrel.
Devices have a power supply range of 3.3V +/-10% and come in an industrial temperature range of -40-degC to +85-degC and a 3mm x 3mm, 16 lead QFN package.